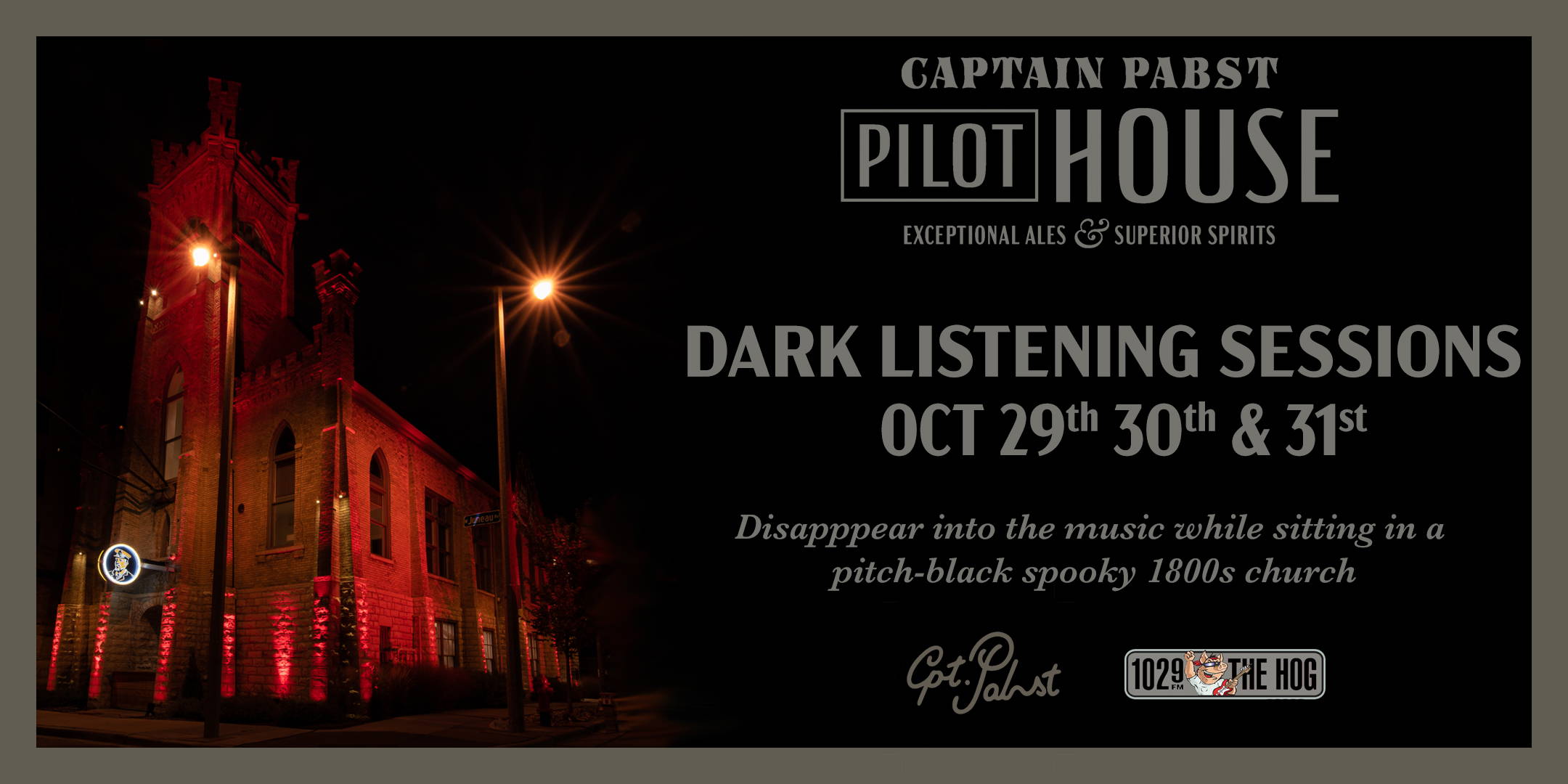 Please buy from venue map NOT "Best Available" ticket. Each guest needs to purchase a ticket in order to select their beer for the "Crowler To-Go". To follow the social distancing guidelines set by the city of Milwaukee. Each table will be limited to one party of people that live in the same house hold. If you are a party of 2 or 3 and you pick a table that has 4 seats the remaining seats will be removed. This way you will not be sitting with people you do not know.
DOOR @ 7:30PM OR 10PM| LIGHTS OUT / MUSIC STARTS 30 MINUTES AFTER DOORS | 21+ | $25

Rock music fans looking for a unique, immersive and electrifying way to celebrate Halloween need to look no further than our "Dark Listening Sessions." Each night, and twice on Halloween, our 20,000+ watt state-of-the-art sound system will crank up as the lights (all of them) go down. Guests will then experience one of three spooky hard rock classic albums: Alice Cooper's "Welcome To My Nightmare," Black Sabbath's "Black Sabbath" or Metallica's "Black Album," in their entirety in pitch blackness

In addition to admission to each "Dark Listening" session, guests will receive a beverage of their choice (Black Is Beautiful Stout is suggested, of course) as well as a souvenir "Crowler To-Go" of any beer available and a Captain Pabst koozie. Tickets are limited for each session to allow for appropriate social distancing and the cost is only $25 per person.

Thursday, Oct. 29 at 7:30p.m. – Alice Cooper's "Welcome To My Nightmare"

Friday, Oct. 30 at 7:30p.m. – Black Sabbath's "Black Sabbath"

Saturday, Oct. 31 -- Sessions at 7:30 and 10 p.m. – Metallica's "Black Album" and costume contest
Beverages will be served for the first 30 minutes of each session, prior to the lights going out for the official start of the dark listening segment of the event.
* No food will be offered at this event
All Pilot House guests must follow some COVID-19 guidelines:
Face masks must be worn when at all times when not at your table, per the Milwaukee mask mandate. This includes ordering at the bar, going to the restroom, etc. Our staff are also wearing masks for your safety.
No standing at bar unless placing an order for the safety of our staff.
Guests responsible for throwing away all food/drink containers and trash.
Hand sanitizer should be used before touching the bar, door handles, pens and receipts, etc.
Maintain at least 6ft of distance between you and others
If you feel sick, stay home! Especially if you are experiencing fever, shortness of breath, persistent cough, etc.
We reserve the right to refuse service to anyone showing symptoms of illness or who does not comply with our COVID-19 policies.
Parking near the Pilot House can get tricky. Save yourself some trouble and reserve your spot in the parking garage right across the street from the venue!
Step 1: Download the ParqEx app
Step 2: Search "1036 W. Juneau Avenue"
Step 3: Reserve a parking spot for ONLY $4!